'TRANS: Exploring Gender Identity and Gender Dysphoria' by Dr Az Hakeem
A book for everyone – insightful enough for professionals, but accessible enough for all. Put simply, TRANS explains what gender dysphoria is, how it affects people, and what is available, medically and psychotherapeutically to support people with gender dysphoria.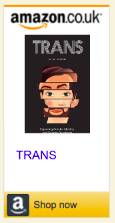 'The Brain' by David Eagleman
An absolutely wonderful book succinctly explaining how our brains work in a very easy to understand approach. I have recommended this book to everyone: colleagues, friends, patients.
'Psychiatry at a Glance' (Katona, Cooper & Robertson)
Written by those who taught me in psychiatry as a medical student in the 90's at University College London and updated regularly. A very concise summary covering the basics of psychiatry in one slim volume, managing to fit each chapter on to one page with a facing page of illustrations.
'Psychiatry' (Oxford Medical Publications)
For students wanting a bit more detail than 'Psychiatry at a Glance' then I recommend this book which is more comprehensive yet remains simple in approach.
For Trainees in Psychiatry:
'Psychiatry: An evidence-based text' (Hodder Arnold Publication)
Probably the most comprehensive book I have seen which covers every aspect of the MRCPsych exam content. It's not a lightweight book and is not cheap but as a trainee I would have loved to have had a 'one book covering everything' rather than the myriad of books I had.
'Complexity and Group Processes: A Radically Social Understanding of Individuals' (Ralph D. Stacey)
Out of all the hundreds of books I have read on psychotherapy and analytic theory during my career and various trainings, this book stands out as the most impressive by far. Written by Ralph Stacey, a business analyst who then trained as a Group Analyst, the book brings together elements from psychoanalysis, systems theory, chaos theory and introduces complex systems theory as a way of understanding how we function as social beings. This book will transform the way you think about interpersonal life.